We bring decades of experience and extensive credentials to every project.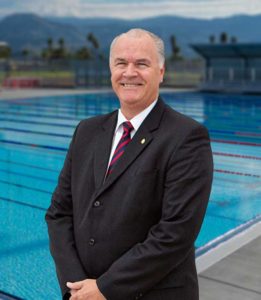 Ken­neth P. Moeller,
AIA, ASLA, CSI, LEED AP BD+C
Archi­tect, President
Ken Moeller has prac­ticed archi­tec­ture as a reg­is­tered pro­fes­sion­al since 1982. He is also a reg­is­tered land­scape archi­tect and licensed con­trac­tor. Mr. Moeller's expe­ri­ence as a project plan­ner, design­er, man­ag­er and team leader has result­ed in hun­dreds of suc­cess­ful pools and aquat­ics com­plex­es world­wide. He is skilled at admin­is­trat­ing and coor­di­nat­ing projects from the con­cep­tu­al phase of design through con­struc­tion. With a back­ground in con­struc­tion, account­ing and busi­ness, he is knowl­edge­able about con­struc­tion means and meth­ods and their cost impli­ca­tions on bud­get and sched­ul­ing. His work as a life­guard in his youth makes him keen­ly aware of safe­ty issues as they relate to facil­i­ty design. An expert in pool pro­gram­ming, he con­sults with pool oper­a­tors to devel­op pro­grams to bet­ter serve the users of the facil­i­ties. As a "pro­fes­sion­al wit­ness" he is cog­nizant of con­trac­tu­al impli­ca­tions and legal pit­falls in the pro­fes­sion. Mr. Moeller is flu­ent in Spanish.
Reg­is­tered Archi­tect: CA (1981), AZ (1982), Guam (1991), TX (1991), NV (1996), NE (2012)
Nation­al Coun­cil, NCARB (1978)
Land­scape Archi­tect (1993)
C‑53 Pool Con­trac­tor (2004)
Mas­ter of Busi­ness Admin­is­tra­tion, 1994, Nation­al Uni­ver­si­ty
B.S., Archi­tec­ture, 1981, Ari­zona State Uni­ver­si­ty
B.S., Accoun­tan­cy, 1979, Ari­zona State Uni­ver­si­ty
A.A., Con­struc­tion Tech­nol­o­gy, 1975, Mesa College